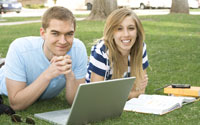 Attending AIU High School has many advantages to on-site classroom based programs. There are no physical classrooms, no school supplies, no lockers, and you don't have to follow a daily class schedule.


Here is what to expect:


Access to your courses at any time from anywhere


Online curriculum in an open and interactive format


Personalized assistance from qualified teachers


Positive, supportive learning environment


Real world skills necessary to succeed beyond high school


Virtual Library with full text access to books and research materials


Online learning community developed with cutting edge technology


Advance during spring, summer, and winter, it's your choice, AIU Faculty are available year round.
AIUHS can obtain an Apostille for your graduation documents as well as Authentication from the US Department of State. If you require any other particular administrative process in your country for your studies at AIUHS or are planning to continue further studies at a specific institution, we recommend that you visit and review their requirements directly since each country and/or institution may have its own unique requirements for each process.